She wrote articles for Vogue knitting and Interweave Knits magazines and she proceeded by publishing four books:
Knitting Brioche: The Essential guide to the Brioche Stitch in 2009
Knitting Fresh Brioche Creating Two-Color Twists & Turns in 2014
Leafy Brioche: Knitted Cowls and Scarves in 2015
Tuck Stitches: Sophistication in Handknitting in 2017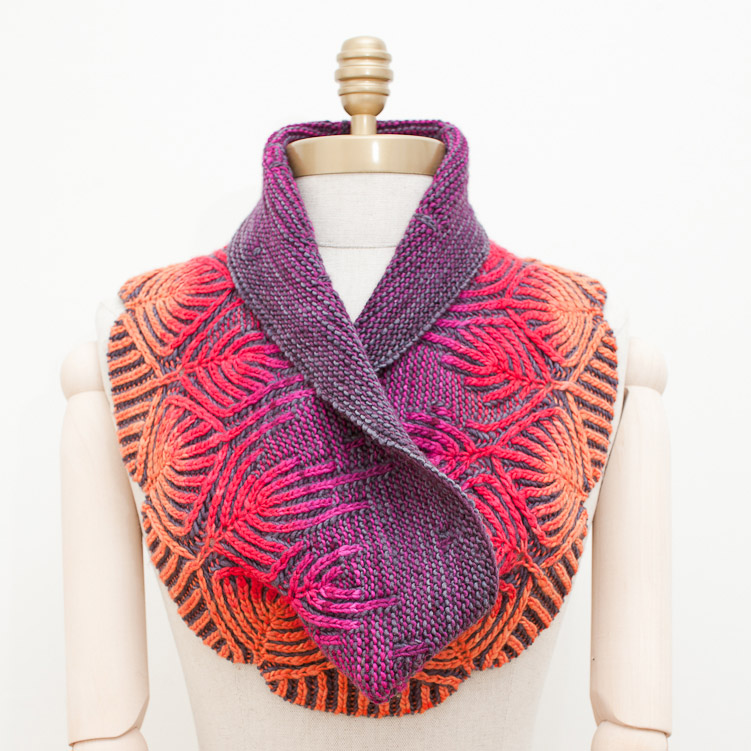 That's the reason why Nancy Marshant is called Mother and Queen of Brioche stitch, as she has not just reformulated and analyzed this stitch but she has also been able to gather and develop many techniques about it.
Nancy Marchant accepted our proposal for an interview. We hope this is a trigger for you to try Brioche stitch!
When did you start knitting and who taught you?
My mother taught me to knit when I was very young. I have been knitting now for more than 60 years.
When did you first meet Brioche stitch?
I saw the brioche stitch for the first time when I was working at an ad agency (I was a freelance graphic designer). There was a young man who walked by the studio every day at 11:00. He always wore a 2-color brioche sweater and, since I was a knitter, I wanted to figure out the stitch. I wound up waiting for him one day, followed him closely and visually memorized the stitch. It was in the 70's so I didn't yet have a phone camera. I went back to my apartment and found the brioche stitch in one of Barbara G Walker's stitch dictionaries. I didn't understand her explanation so went to my local yarn shop where my dear friend Mimi explained the "patentsteek", a very common stitch in the Netherlands, to me.
What is your favorite part of brioche knitting and what made you devote yourself to this technique?
I think my favorite part is the lovely soothing rhythm that is created when you are knitting the stitch.
It was amazing to me that this stitch has never been developed. It would pop up in magazines every so often but then it was kept simple. At the most, it was worked in two colors and had decreases at the raglan sleeve edges. I figured it was time that someone put some effort into designing some brioche stitch patterns.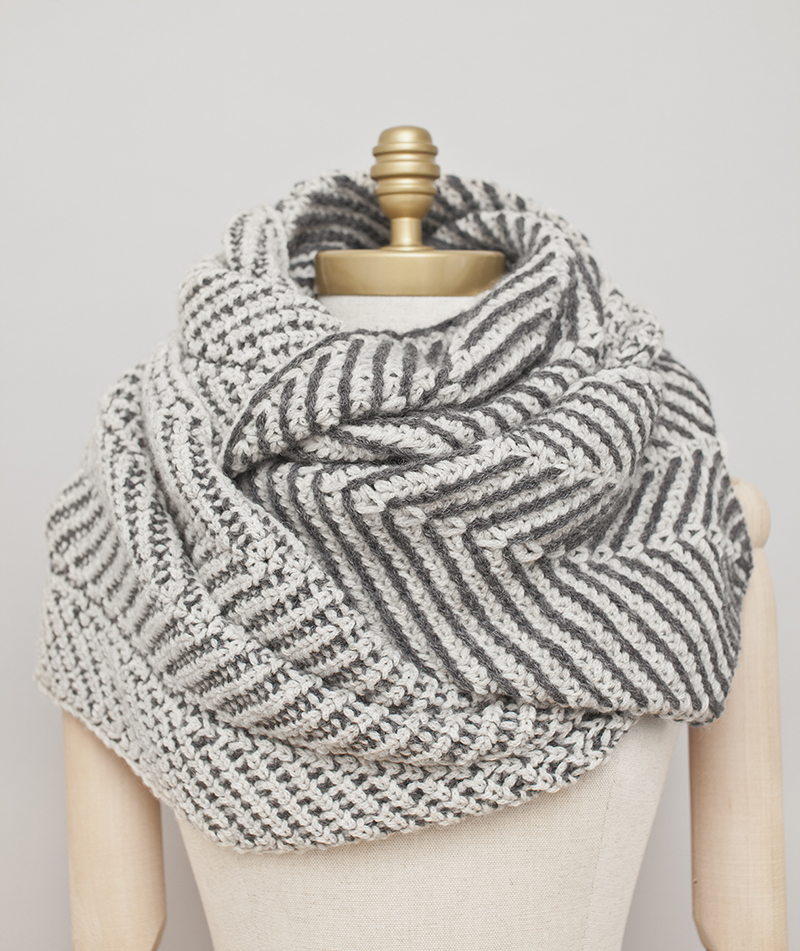 How did you manage to gather and develop all this valuable information about brioche knitting?
It wasn't easy. When I started researching the stitch, I couldn't find much. A brioche stitch cushion pattern was first published in the mid-1800's, in a small English book by Miss Watts. One would think that there would be more information about it through the years. I went to and wrote to lots of museums, combed the internet, and looked through magazines in lots of different languages, trying to find anything about the brioche stitch but there was little to be found.
So I had to develop it. I invented terminology, abbreviations and symbols (brk1, brp1, sl1yo) for the brioche stitch. I developed the two-color stitch patterns involving increases and decreases like in my book Knitting Fresh Brioche. I developed techniques such as brioche crossed stitches, brioche lace and combining brioche with garter stitch, double knitting and playing around with brioche syncopation, brioche stockinette stitch and applying these techniques using lots of different yarns.
I learned a lot but made a lot of mistakes. I had many projects that absolutely failed; either because of the fiber that I used or a stitch motif that just didn't work.
How did you decide to write and publish your first book? Did you expect such a great success?
That wasn't easy either. I applied to several publishers with my idea of a book about the brioche stitch and was constantly rejected because no one wanted to take on a book about one stitch. Finally, one day at the end of a class, a student asked if I was interested in writing a book (she was a aquisitions editor for a large publishing house) and that's how it all started.
I should say that my first book, Knitting Brioche, is not my best. There was no previous information about the brioche stitch for me to fall back on so I really had no idea what I was doing. Don't get me wrong, there are great ideas in that book. But by the time Knitting Brioche was published, I was already changing the way I worked the increases/decreases, the symbols, the color arrangement. I have been told, though, by a lot of knitters that they learned from that book and that makes me feel good.
I am quite proud of Knitting Fresh Brioche and my two self published books, Leafy Brioche and Tuck Stitches.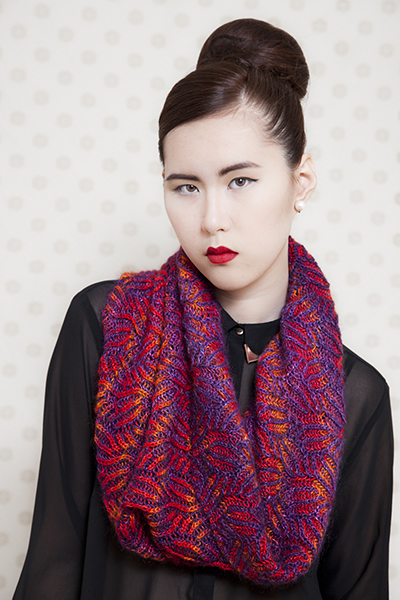 Your books and patterns have influenced many knitwear designers. Is this something that pleases you and/or worries you at the same time?
Oh, that pleases me very very much. That was my intention. I think, deep in my heart, I am a teacher. Education has always been a passion of mine. I have recently been noticing manufactured sweaters that are using stitches that I created.
What is your favorite design and what is the most difficult pattern you have written so far?
That's a hard question. Right now, I think Ribcage Chevron is my favorite. I seem to wear that shawl all the time. But next week, I might have a different favorite.
The most difficult? I don't think any of the brioche patterns are difficult but some patterns are difficult to write which means they can be difficult to understand. Once you understand the construction of a pattern, it becomes intuitive and easier.
What is your advice to someone who wants to create a Brioche pattern?
Please use the terminology, abbreviations, and symbols that are presented in Knitting Fresh Brioche. I think standardization is important to a knitter.
Your last book titled "Tuck Stitches" deals with the particular stitches, can you tell us a few words about this book and Tuck stitch in general?
The brioche stitch is a member of the tuck stitch family. I used to work a lot on a knitting machine and every knitting machine comes with a manual full of quite ugly tuck stitch patterns. I ignored those patterns until I started playing around with slipping stitches a second or third time; giving them two or three yarn overs before brioching them together. It dawned on me that I was handknitting tuck stitches. I love creating new stitch patterns so that's why I wrote the book. The knitting world needs to know about tuck stitches.
You have already written four books and you have earned the respect of all knitwear designers. In the knitting world everyone knows you as the Mother and Queen of Brioche. So...what is your next goal?
I have a few more books in mind. I am currently working on Knitting Brioche Lace. At the same time, I have designed a lot of brioche crossed stitch patterns so plan on putting together another book about crossing, cabling, and other techniques using brioche. It's all fun stuff. Happy brioching!
Thank you Nancy Marchant!
All the photos have been taken by Alexandra Feo.